everything was drawn & scanned.. over about a 3 week period.
---
The first song on the most recent album (cd starts with a spanish version, and also includes an english version) is a song about coffee and mole from Oaxaca, her home away from New York. The opening lyrics to the album translates to:
They say in Oaxaca, you drink coffee with mezcal
They say in Oaxaca, you drink coffee with mezcal..
the song also appears as track 13 (sung in english). (followed by 'They say herb is plenty to chase away evil eye' heh)
The second song on the record is about a young girl who escapes a bad family life and becomes a table dancer in the town. I read that sad stories like this were what inspired Lila to make this music.
first sketch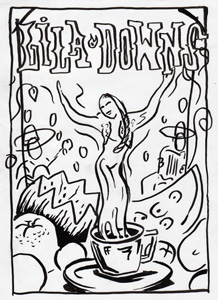 So, there is a nice cup of Oaxaca coffee (spiked with mezcal!) bottom center and a vision of the table dancer girl in the steam coming from the coffee. Below and around the coffee cup will be a spoon and some of the green sprigs to add to their brew, behind that is a pile of melons and fruit that echo frieda's paintings of same. The watermelons cut in a zig=zag and other fruits..

There is an open area behind the foreground table where all of the above rests. This isn't completely figured out but maybe some musicians and people around in a festive way. These should work whether you see it as the background for the coffeecup or the background for the steamy table dancer.

The framing sides and top are also not completely figured out but maybe some of the oaxaca ancient ruins as border. I have a symmetrical godhead kinda pic that should fit top center and a tortoise/guy that might work as one on each side within a trellis/vines kinda action. I plan to fit in some blanket patterns from the area in the background too.

That lettering is really roughed in, but it's looking not bad to maybe.. similar cleaned up and outlined might be good. What do ya think?
-j

---

getting there..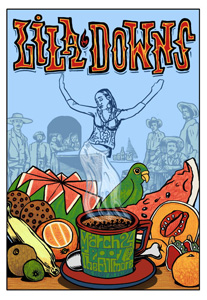 bottom half basically done, some texture details gonna add in... background is in progress on the drawing board.. top of table dancer girl coming too.. steamy lower part of dancer worked out kinda cool. I hope you think it's coming along nicely.

Talk with you soon, John

btw colors are sampled from a set of oaxaca photos I found, so hopefully it resonates appropriately on that level.

OH the spoon handel is redrawn & the F is tucked into the design, not scanned yet. million little things heh

---

background work, streamers..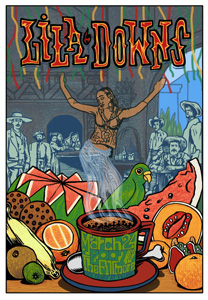 I'm still working things out in the background here, but I have an appointment this afternoon so I wanted to shoot you a quick progress pic before I have to go. I'll be back working later..

The background is in there plus some streamers coming in from the top for color/movement/and to push the depth. I'm not satisfied with the darker inside bits yet, but I think the space is divided up nicely with a little outside bit visable on the right of the cool cavernous cantina.

>this is really nice! I love the lovebird. Are you
>going to put "Satruday" in there? Please. Perhaps you
>could even push the men back further, or you plan to
>bring her forward, right?

Yes she is coming forward with some color.. I haven't worked on that yet. The background is still in push-pull mode too..

'Saturday' is gonna be a bugger, I haven't gone there yet. All the other type fit so nicely on that cup I hate to touch it.

be back in a couple few hours

- John
---

new cup text ( Saturday) / credit line proof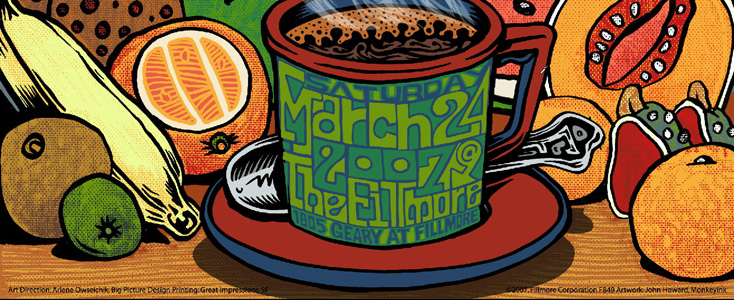 ---

left.. tried to use traditional flowered fabric as shirt, but it came out too 'mall top'. new one replaces it with bolero jacket (ignore under jacket sketch).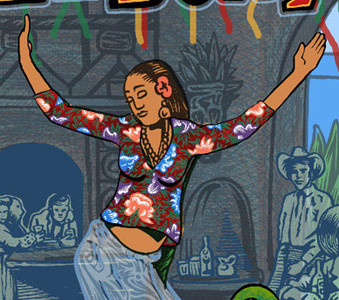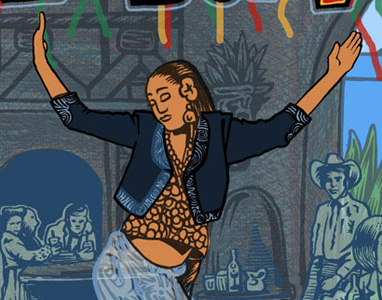 ---

final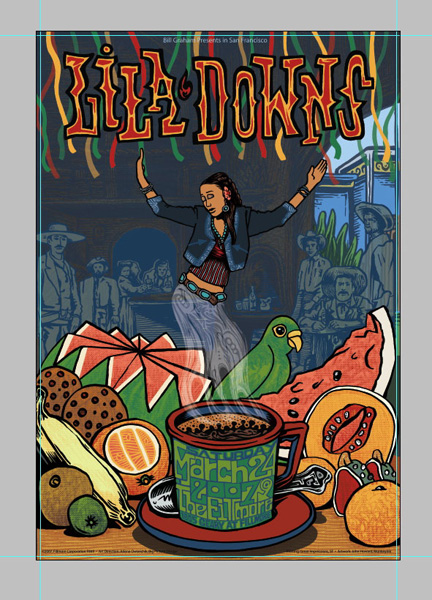 ---
The elements were hand drawn - scanned - scaled and colored in photoshop. Here is a squashed movie that flips through photoshop layers of scanned drawing..


A 'corridor' is an old Mexican story-telling song. This is the true story of a young woman who was married by her mother at a young age, so she decided to escape and become a tabledancer and singer.
The Table Dancer
That girl arrived on the "Red Arrow" bus
with her patent leather high heels life
of mine, ay ay my little dark one
such a good thing as Tacha, I have not seen
In those days she was only fourteen
when her mother wed her to a man
since she was little she was easy to take
but one dark night Tacha escaped
Sing to me Tacha, a little country song
because the memories are going to kill me
Sing to me Tacha one of those pretty
ones those ones that will make a man cry
Since the night is sad and Tacha was alone
she had to find her way from bar to bar
with her little table dancer lips painted
on she got up on a table and began to sing at the cantina
Those little eyes and those lips are my weakness
as much as I wish I can't forget
with those drinks and those sad songs
that table dancer Tacha bewitched me





Lila Downs at the Fillmore
13x19″ Litho
available $20