July 6, 2010
Flatstock 25 in San Francisco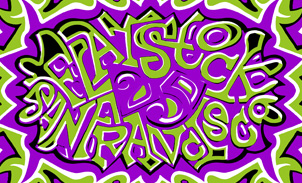 Flatstock 25
Saturday, July 10, 2010
10:00am - 6:00pm
The Hall of Flowers @ Golden Gate Park, San Francisco, CA
Flatstock 25: By the Bay-San Francisco This event, presented by the American Poster Institute (API) and The Rock Poster Society (TRPS), will be help July 10, 2010 in Golden Gate Park @ the Hall of Flowers (County Fair Building), San Francisco, CA.
Some of the most talented poster artists from the Bay Area, as well as national artists, will be exhibiting and selling thousands of their screen printed music posters and art prints for this one day event. Come meet the artists, drool over their works, and walk away with an arm full of limited edition serigraphs.
Click image for big view of the melty poster. We shall see if the optical illusion works in ink on paper... these are printing just before the show.
Posted by John at July 6, 2010 9:24 PM