April 12, 2012
Psionic Swamp a Retrospective Show in Portland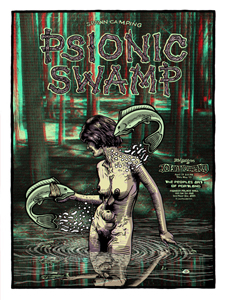 I'm looking forward to this retorspective of my work at People's Art of Portland!
Peoples Art of Portland Gallery, Po Boy Art/Jason Brown, and Chris Haberman presents...
"Spawn Camping the Psionic Swamp"
The Art of John Howard:
Reception: Saturday, April 21st. 5-9pm, 2012.
Show runs April 21st - May 13th. 2012.
Nearly 100 posters & prints spanning 20 years
The People's Art of Portland
Pioneer Palace Mall
Opens April 21 5-9
through May 13
Psionic Swamp Print
18x24″ , 5 color screen print
signed/numbered edition of 100
Sold Out thanks!

Posted by John at April 12, 2012 1:02 AM