Early in the day, this is the poster artist section of the vendor booths.. Jasom Munn, Me- John Howard, Gregg Gordon. and Lil Tuffy.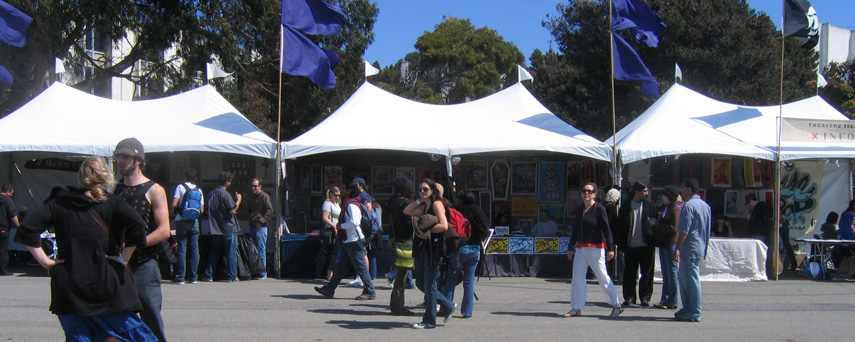 the offical info ---
The two-day Treasure Island Music Festival features an impressive line up of internationally renowned artists. Saturday, September 15th focuses on electronic and dance oriented acts with an eclectic bill including Thievery Corporation, DJ Shadow & Cut Chemist, Gotan Project, M.I.A., Ghostland Observatory, Kinky and Zion I. Sunday September 16th features the best and brightest in indie rock with Modest Mouse, Spoon, Built To Spill, Clap Your Hands Say Yeah, and M. Ward.
There will also be plenty of interactive activities, a vending village featuring local artists and designers, as well as a diverse array of food and beverages. In the same manner that the Bay Area has long been a leader in environmental initiatives, the festival will not only implement green standards but hopes to entertain and educate concert goers with a few simple ways they can bring conservation efforts to their day-to-day lives.
Sat 9/15
Thievery Corporation
Gotan Project
DJ Shadow & Cut Chemist
M.I.A.
Ghostland Observatory
Zion I
Dengue Fever
Kinky
Flosstradamus
West Indian Girl
Kid Beyond
Honeycut
Mocean Worker
The Midnight Foundation
Sun 9/16
Modest Mouse
Spoon
Built To Spill
Clap Your Hands Say Yeah
M. Ward
Two Gallants
Au Revoir Simone
Earlimart
Film School
Devil Makes Three
Sea Wolf
Street To Nowhere
Trainwreck Riders
The Weather Underground