In the late afternoon I heard the official 2b1 booth was selling out of this poster and I sold a lot of them too, so I'm pretty happy people seemed to dig it. I was very influenced by the old posters as I was coming up so it's cool to get an opportunity to give tribute to the genre.
Below is a cobbled together panorama of the view from our booth. The stage was way off to the left, food and more vendors to the right.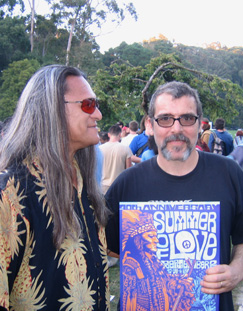 I was selling/wrapping a poster at one point and realized.. "Dude, THAT IS YOU!" An American Indian from Los Vegas was buying a poster and he looked a whole lot like the Indian I drew for the poster. He was the coolest. He said he had spent most of the day in a huge teepee at the end of the field. He said they were just hanging out and people were passing through all day long.
The reference for this drawing was of Yellow Bull of the Nez Perces of the Pacific Northwest from around the turn of the century. I wonder if they could have been related?
Dina made a ton of one inch buttons especially for Summer of Love 40th, and hundreds of them have new happy homes. I thought they looked f'n great in a line down this girls killer jacket and.. all. And she was very cool about letting me take a pic to post.
Also pictured below is a shot of Seabury in our booth as we are just about finished setting up.
Artists who made posters for Summer of Love 40th series

1. Mark Henson
2. Joshua koza
3. Mike Dolgushkin
4. Tim Twelves
5. Crowbar
6. Pat Ryan
7. LAMB
8. Lee Conklin
9. MOT
10. Lianne Grave
11. Andrew Annenberg
12. John Van Hamersveld
13. Crowbar / Richard Fields
14. Carolyn Ferris
15. Gary Houston
16. Dennis Loren
17. Nels "Jagmo" Jacobson / Jim Harter
18. Pay Ryan
19. Dave Hunter
20. Ron Donovan
21. Ryan Kerrigan
22. John Howard
23. MOSKOWITZ
24. Johnh Seabury
25. Burray Olson
26. Wendy Wright
27. Chris Shaw
28 Stanley Mouse
29. Gilbert Johnson




partial list of acts
Moby Grape reunion (all original members)
Country Joe McDonald
Taj Mahal
Lester Chambers (from The Chambers Brothers)
Canned Heat
Lydia Pense and Cold Blood
New Riders of the Purple Sage
Jessie Collin Young (From the Youngbloods)
Banana (From the Youngbloods)
Jerry Miller Band (from Moby Grape) featuring Tiran Porter (from the Doobie Brothers), Dale Ockerman (from the Doobie Brothers) and John (Fuzzy) Oxendine (from the Sons of Champlin)
Michael McClure, Rob Wasserman, Jay Lane and Ray Manzarek (from the Doors)
San Francisco's First Family of Rock (TBA)
Brian Auger
Dickie Peterson of Blue Cheer
Chris and Lorin of the Rowan Brothers
The Alameda All Stars (from Gregg Allman Band)
Terry Haggerty (from the Sons of Champlin)
Dan Hicks and the Hot Licks
George Michalski - Pete Sears Dueling Keys
Freddie Roulette
Ron Thompson
The Charlatans
Leigh Stephens (Blue Cheer) and Greg Douglass (from Steve Miller) and Pete Sears (Jefferson Starship) and Melissa Olsen
Essra Mohawk (from the Mothers of Invention and Jerry Garcia Band)
Brad Jenkins
Barry "The Fish" Melton
The All Night Flight featuring David Denny and Steve McCarty (from Steve Miller), Jack King (from Cold Blood)
Merl Saunders (supporting the effort)
Squid B. Vicious
Charles Lewis - Harmonica
Jim Post (Friend and Lover, Siegel Schwall Blues Band)
"Hair Reunion" Original Cast
Long Feather - Flute
Fayette Hauser and the Cockettes
Terrance Hallinan (former SF DA)
Stephen Gaskin
Cindy Sheehan (political activist)
ruth weiss (Beat Poet)
Richard Eastman and Dennis Peron (marijuana initiative)
Lenore Kandel (Beat Poet)
Paul "Lobster" Wells (MC)
Dr Hip MC (Eugene Schoenfeld)
Artie Kornfeld (Producer of Woodstock)
Wavy Gravy
Mouse man (Bagpipes)
Scoop Nisker
David E. Smith (Haight Ashbury Medical Clinic)
Bruce Latimer (Bruce Latimer show)
Rabbi Joseph Langer
Bruce Barthol (Mime Troup)
Doug Green (MC)
Howard Hesseman (schedule permitting)
Benjamin Hernandez (Harts hands and Elders)
American Indigenous people's, Agnes Pilgrim and 13 Grandmas (schedule permitting)
Lakota War Pony's and Harry Riverbottom (Chippewa)
Merle Tendoy (6 th generation of Sacagawea ) Shonie
Chief Sunne Reyna
Albert Tenaya
Iroquois Tribe
Dakota Tribe
Jeff Jolly
Emmit Powell and the Gospel Elites